Emerald Coast RV Beach Resort - Panama City Beach, FL
Eric: Wow. This place certainly was impressive. Imagine if Epcot at Disney world had a section called "RV Land". Everything was paved and landscaped so perfectly that phlegm was building up in my throat, compelling me to spit somewhere on the asphalt, just so I could say there was something out of place. What messes with your head is the appalling repetition of Panama City Beach just over the wall. Shouldn't this place be more crappier, just to blend in better? This resort was so perfectly laid out and manicured that it was creepy. It was weird that they've called themselves a 'beach resort' when they're not exactly next to the water. Take a look at the little Google map down below. Not a lot of surf coming from Route 30.
I also found it disconcerting to hear large animals noises coming over the wall on our first day. We were wondering if some good ol' boy was keeping a panther in his back yard as a pet. It was the Panama City Beach Zoo. They had some pretty cool animals to check out. It was nice to know what COULD be getting into your RV if any one of them got out and jumped the fence.
On The Road With The Dacrons - Panama City Beach
Velma: I think that Emerald Coast Rv "Beach Resort" is one of those places I found in a campground directory (Woodall's, most likely). I don't remember any mention of a zoo, however. Hearing lions roar while at a pristine RV park was interesting; though when we actually visited the zoo (it's tiny) it was, as usual, depressing. Beautiful large animals confined in small, dismal quarters...It's supposed to be an educational experience, where "exotic and endangered species" are kept in "a lush tropical setting". Don't you love PR-speak?
The park (RV, not zoo) has great ratings, but I like my RV parks out of the city, not in it. Bad enough to be cheek-to-jowl with hundreds of other RV-ers, but traffic noise just adds insult to injury. (I wonder if I can work any more clichés in this paragraph?)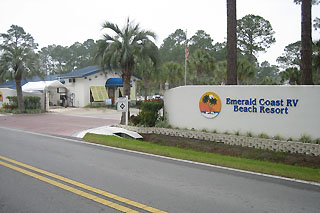 Please wipe your feet before entering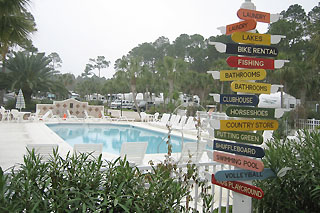 Which way to the Waffle House?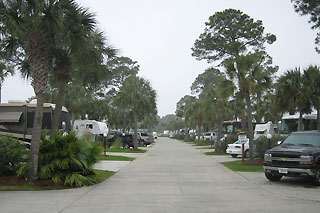 Who needs grass...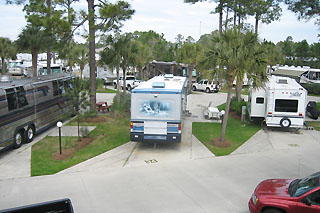 ...when you've got concrete?
Website: Emerald Coast RV Beach Resort
Address: 1957 Allison Ave, Panama City Beach, FL
Phone: 1-800-232-2478
GPS: N 30º 11.02'8 - W 85º 47.207'
30.183803, -85.786778