Greenview Hotel in Miami Beach, Florida
Eric: The Greenview Miami beach hotel looks and feels like what a Miami hotel should be. Cool layout and interior decorating all over, close to Miami attractions, descent room. Take a look at the pictures and see for yourself.

Velma: I think I found this place in the phone book; I don't really remember. My goal was just to get the hell out of the Lombardy Inn, after which the Greenview Hotel felt like a 4-star resort. The location is good--within walking distance of Espanola Way, which has outdoor cafes, little shops, galleries and a weekend market. At night the place is lit with strings of lights. A nice place to sit, have a coffee or ice cream and people-watch.

On The Road With The Dacrons - Miami Beach, FL
miami beach hotels
LSI
miami vacation
miami hotels
miami attractions
miami condo
south beach
miami map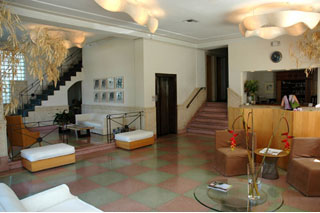 Greenview Hotel lobby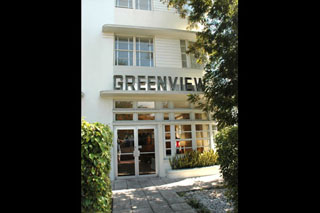 Greenview hotel front
Website
:
Greenview Hotel
Address
: 1671 Washington Avenue, Miami Beach, FL
Phone
: 305-531-6588
GPS
: N 25º 47.495' - W 80º 07.891'