Sunset Isle RV Campground - Cedar Key, Florida
Eric: This is your basic family owned campground--small, just a few spots. Sunset Isle RV Resort seems to be the main spot to camp at Cedar Key if you have an RV. I spotted a couple of tiny areas along Route 24 that seem to be taking in RVs, but they looked like parking lots with hook-ups.

The campground is kind of tight and tricky to maneuver around in. There's some funky decorated bathrooms and a little rec hall. (I missed out on a guitar/piano sing-a-long music jam one night.) It's also pretty easy to get to the downtown area from the campsites. We think it fits in nicely with the feel of Cedar Key.

On The Road With The Dacrons - Cedar Key
Velma: The location of Sunset Isle is perfect: within cycling distance of town and the waterfront. It's backed up against Waccassa Bay where you can see gorgeous sunsets, especially if you have a waterfront site, which have their own little docks. The owners of the campground are very friendly and seemed pleased to see us (they said they remembered us, which would not be the case in a large RV resort) when we showed up for our second visit, all the way from New England. We'll definitely return again.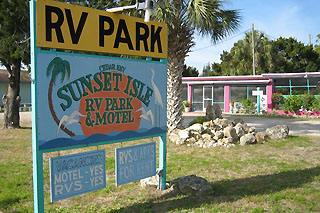 Sunet Isle RV Park & Motel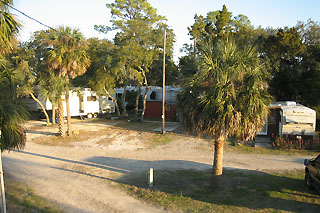 Pan left - Sunet Isle RV park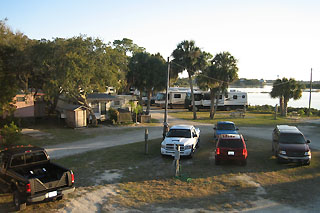 Pan middle - Sunet Isle RV park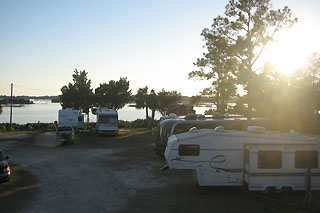 Pan right - Sunet Isle RV park
Website: Sunset Isle RV Park
Address: 11850 State Road 24, Cedar Key, Florida
Phone: 800-810-1103
GPS: N 29º 09.256' - W 83º 01.835'
29.15426, -83.03058