Key West, FL Travel
Eric: I've decided that if I lose or abandon everything and become homeless, Key West will be the place go. I spotted a whole little community of homeless people on the outskirts of Key West. (How'z that for Key West lodging?) If you were to become a chronic alcoholic, this place is perfect. You could drink yourself into an oblivion, collapse anywhere on the ground, get a good nights rest and pick up where you left off the next day. It's warm here all the time. You don't have to worrying about freezing to death if you couldn't stagger back to your hovel.
This meshes with my crackpot theory on why people from colder climates (i.e. the Vikings and the Europeans) were perfect for invading other lower latitude cultures. You've got to be motivated to kill, chop wood, make clothing and build secure structures so you won't freeze to death each year. Some guy sitting on an island somewhere who isn't even worried about a loincloth will be an easy target.

For Key West hotels, we stayed at the Blue Parrot Inn. Nice spot! We stayed there on a previous Key West vacation. Never stayed at any of the Key West resorts down there.

On The Road With The Dacrons - Key West/Sugarloaf key
Velma: There's some disagreement as to whether "Go West" by the Village People referred to Key West or the actual western direction of San Francisco, both known to be gay-friendly. There's a website dedicated to gay Key West travel, called (surprisingly) Gay Key West. Yeah, Key West is very colorful--literally and figuratively. Referred to as the "Conch Republic" by locals who half-jokingly talk about seceding from the mainland, it is the place to go to let it all hang out (I don't know about literally, however...).
If you want drunken revelry, start with a margarita (what else?) at Jimmy Buffet's Margaritaville on Duval Street and bar-hop your way down to Mallory Square, timing it to arrive at sunset. Elbow your way through the crowd for a prime sunset viewing spot--et voilà!
On the other hand, if you're into quieter pursuits, try the beautiful Ernest Hemingway Home & Museum, which is filled with Hemingway memorabilia. The grounds are home to numerous cats, said to be the descendents of cats owned by Ernest Hemingway (if, in fact, a cat can be "owned")--in fact, cats are all over the island, the theory being they're descendents of cats kept on board pirate ships to keep the rats in check. You can also try the Shipwreck Historeum Museum or, as we did, the Pirate Soul Museum (and Shoppe) where you can listening to sound effects from a pirate ship and get your picture taken with a Johnny Depp/Captain Jack Sparrow look-alike.
We wanted to experience a piece of history by taking a cruise to Dry Tortugas National Park, but we literally missed the boat. (For some interesting story-telling featuring Fort Jefferson, read Nevada Barr's book Flashback.
And you can't the Keys without having a piece of Key lime pie. We were told by some locals that the best pie was to be found at The Blond Giraffe (they have 5 locations on Key West)--and I have to agree! My mouth is watering just thinking about it.
Now that it's cold here in New England (and elsewhere in the northern half of the country), you can torture yourself by looking at Key West webcams. Eat your hearts out, fellow peepsicles!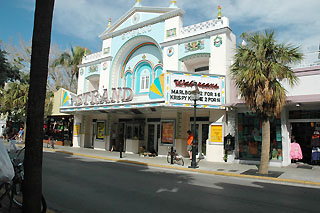 Key West - Duval Street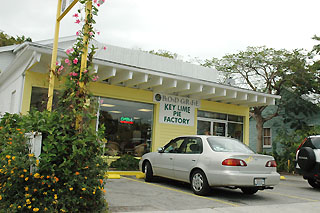 Key Lime Pie Factory!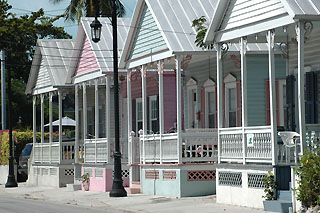 Typical Key West houses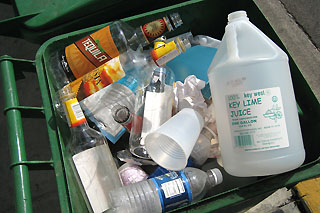 That's surprising!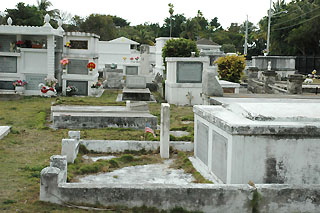 Key West cemetary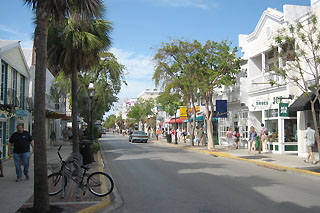 More of Duval street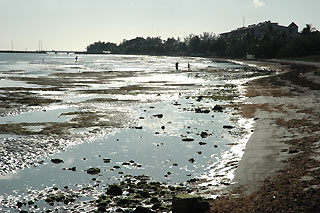 Key West beach...eh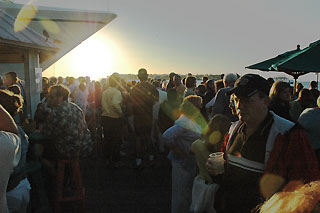 I guess this is what you're SUPPOSED to do.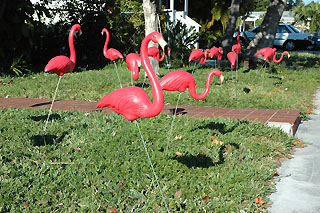 Flamingos...oh boy!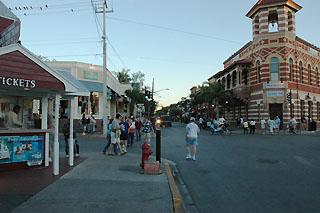 Downtown Key West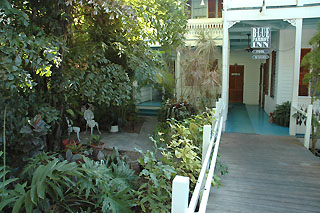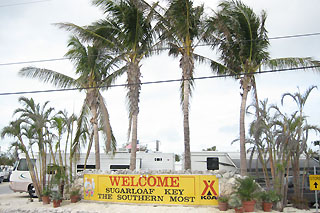 Can you spend any more money to stay at a KOA?
Wikipedia
:
Key West
GPS
: N 24º 33.663' - W 81º 46.736'