Fakahatchee Strand Preserve State Park, Florida
Eric: Boy do we love the movie "Adaptation". The movie is by Spike Jonze, written by Charlie Kaufman and stars Nicholas Cage. It's sort of based on the book The Orchid Thief. The movie and the book take place at times in Fakahatchee Strand. OK, we're down here in Florida, let's take a look for ourselves.

One big difference between the Fakahatchee Strand and the Everglades is Fakahatchee has mostly huge trees and water and the Everglades is mostly grass and water. We were there in the dry season, so we were able to move around pretty quickly through the forest.

We did not spot any rare orchids. In fact, the only thing we really spotted was an incongruous outhouse by a trail. Was someone concerned that visiting city folk would be too modest to take a tinkle behind a cypress tree? I have the GPS coordinates in the video if you ever need to take a dump while in the Fakahatchee Strand. Oh yeah, bring your own toilet paper--they're out.

On The Road With The Dacrons - Fakahatchee Strand @ 2:48
Velma: I don't know that I would have gone here if I hadn't read The Orchid Thief, by Susan Orlean. It's one of my favorite books "about orchids but not about orchids", as Orlean herself said. There are many trails in Fakahatchee Strand on which to walk and bike (they also have canoe tours). We kept running into a bike tour group--well, running away from, since we wanted to enjoy the place in silence.
It's considered a "swamp forest" and is the only place in the world where bald cypress trees and royal palms grow side by side. It has more orchids and bromeliads than any other place on the continent. Wandering slowly through it, looking up through the branches or across at cypress knees and water, it's easy to feel as if you've gone back in time to the Jurassic period. I don't think I spotted any orchids--if I did, they weren't flowering (this was in the winter), but I did see, and photgraph, a zebra butterfly. We also spotted a large hawk (we heard it before we saw it), but I couldn't get close enough to photograph it. I think Eric saw a snake, but no other critters except a few insects.
Places like Fakahatchee Strand, Big Cypress and the Everglades are why I like south Florida and why it's one of two places to which I would like to move. I leave you with one of my favorites quotations from The Orchid Thief:
"The world is so huge that people are always getting lost in it. There are too many ideas and things and people, too many directions to go. I was starting to believe that the reason it matters to care passionately about something is that it whittles the world down to a more manageable size. It makes the world seem not huge and empty but full of possibility." (Copyright Susan Orlean, 1998)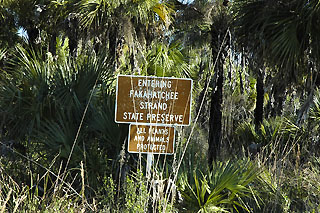 Fakahatchee Strand sign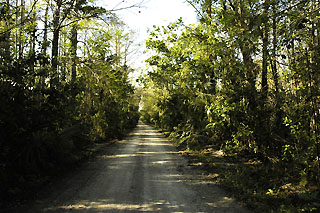 The road through the Fakahatchee Strand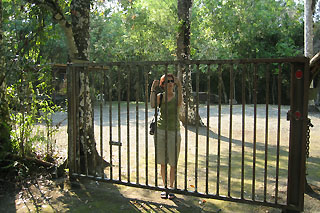 Gate area in the middle of Fakahatchee Strand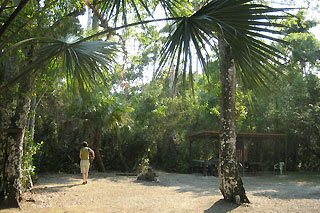 Velma heads out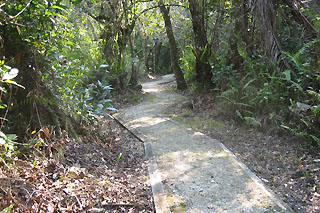 This way to the snack bar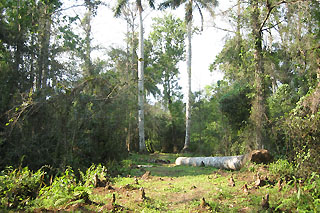 Fakahatchee Strand spot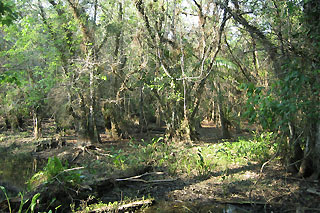 swampy area of the Fakahatchee Strand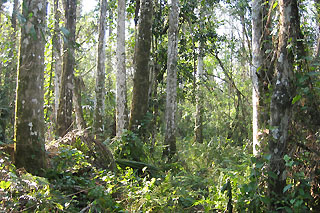 At this point yer lost in the Fakahatchee Strand