Flamingo Island Flea Market - Bonita Springs, Florida
Eric: Florida seems to be over run with indoor flea markets like these. All sorts of crapola, all jammed in together. It's definitely a good spot to kill half an afternoon wandering around. There really isn't a lot to say, other than look at the pictures in the video to get a better idea what the place looks like. I mean, how many pieces of luggage can one buy? We did get this kooky, brightly lit "action light" of the Virgin of Guadalupe. Upon close inspection, this thing doesn't adhere to any electrical code I can think of and never had any sort of UL tag on it. When it's on, I'm concerned that it'll burst into flames at any moment. I'm sure others would have interpreted that as a miracle of some sort.

On The Road With The Dacrons - Flea Market @ 2:24
Velma: When I think of "flea market" I think of something that's outdoors, like the Todd Farm Flea Market up here in Mass., with tables of interesting old junk that people have collected or gathered from musty attics, snagged at estate sales or cleaned from their basements. We did see some of that in Daytona Beach, but the Flamingo Island Flea Market (and many others) is more like a giant dollar store, with some collectibles thrown it. If you're looking for cheap tools, belts, bags or sunglasses, this is the place to go. I did get a really cool tote bag for $5, though! Still, like Eric said, it's a good way to pass an afternoon--if it's raining.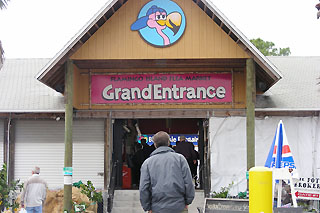 Flamingo Island flea market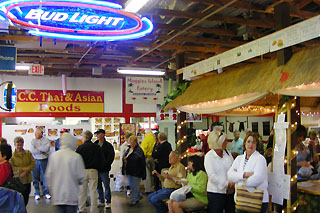 More crap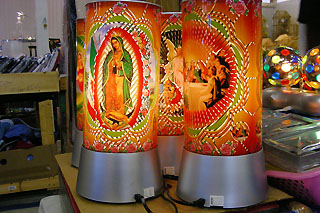 get your own Virgin of Guadalupe "action light"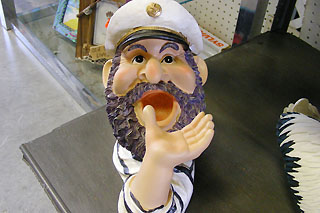 What the hell goes here??
Website
:
Flamingo Island Flea Market
Address
: 11902 Bonita Beach Rd, Bonita Springs, FL
Phone
: (239) 948-7799
GPS
: N 26º 19.894' - W 81º 45.327'