Lucky Cole's - Loop Road/Pinecrest, Florida
Eric: This was another find that we didn't expect at all. Lucky Cole is a guy who lives out in the middle of the Everglades who wants people to visit him. We go over all this in the video. He is a photographer who likes to take boudoir shots of mostly naked women. He's carved out a nice niche for himself both in photography and the Everglades. If he likes you, he will show you around his place and you'll get to see his funky stuff. You'll have to go down Loop road to find him. You can see where he is on the Google map below. Here's a bunch of links of him and his photography:
Renaissance Swamp Man by Miami New Times.
Luck Cole's Photo Gallery at pbase.com
Loop Road photo tour
Monroe Station & Loop Road (featuring Lucky Cole)

On The Road With The Dacrons - Lucky Cole's @ 4:39
Velma: First of all, in perhaps typical male fashion, Eric neglected to mention Lucky's better half, Maureen. Though somewhat camera shy (despite being an occasional model of Lucky's), she is just as warm and friendly as he is.
When we first saw the place, we didn't know if it was public or private land. The gates were wide open, there was a neon Budweiser sign on the porch and a few cars parked on the grass. We drove in a little ways, then saw an arm waving us in. We drove past a doghouse with a sign that said "Very Dead Dog". The whole place is filled with funky stuff like this as well as cats, numerous photos taken by Lucky, an outdoor bathtub and a "beach" that Lucky made for Maureen.
I asked if they ever saw any of the elusive Florda panther, and they replied that one had come into their enclosure, but they generally avoid contact with humans. (A wise policy, but--alas--they don't avoid our cars often enough--a considerable source of the decreased panther population.)
On the way to Lucky & Maureen's, we passed a few other homesteads, surrounded by fences and "keep out" signs. I sympathize entirely.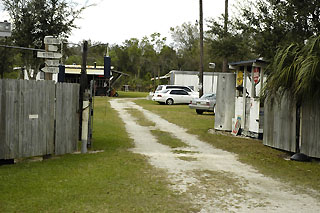 Entrance to Lucky Cole's on Loop Road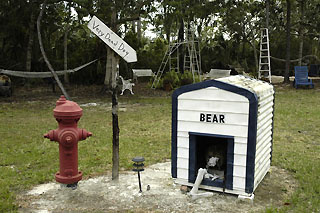 Lucky Cole's very dead dog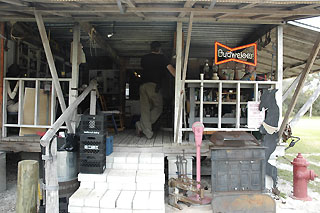 Lucky Cole's entrance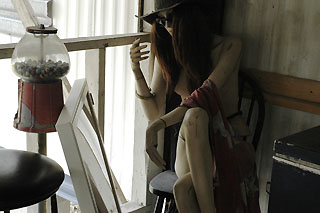 Mannequin at Lucky Cole's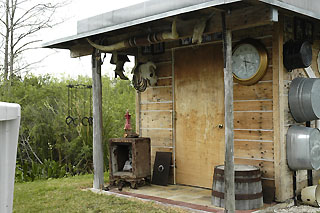 Lucky Cole's changing room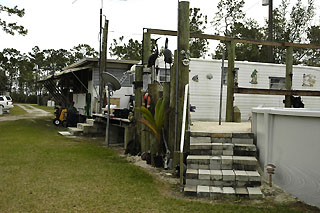 The back view