Crack'd Conch Seafood Restaurant, Key Largo, FL
Eric: It's always fun to find an out of the way place with cool ambience like The Crack'd Conch Seafood Restaurant in Key Largo. Take a look at the photos we've posted of inside the place. You can just sit there with your mouth open, staring at the walls with a dumb expression on your face while you're waiting for you food. I was hoping I would find the missing "e" from their name, but all the e's were being used in other sentences.
I thought the food was good. [insert lame joke: "When I seafood I eat it.] You keep hearing about conches when on the Florida keys, so it's almost like your obligated to at least try some. The Crack'd Conch obviously caters to this type of seafood, so you might as well come here.

On The Road With The Dacrons - Key Largo
Velma: I wish I could remember what I had for dinner at The Crack'd Conch, but the only thing I can tell you is that it wasn't conch. I have a dislike for food with the consistency of rubber bands or any strong-tasting seafood like scallops or anything boiled alive like lobster. (Don't let anyone tell you they feel no pain--everything alive feels pain; it's a basic survival mechanism!)
And I love the decor--inside and out. I wish there was a place like that near us. (What am I saying?? I wish we were near IT!)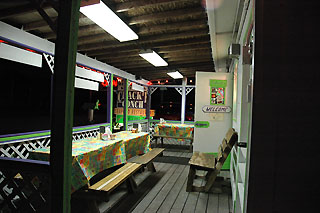 Crack'd Conch outside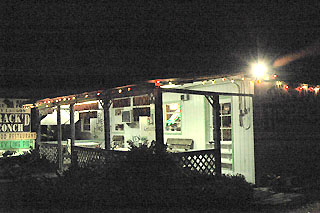 Long shot of the Crack'd Conch Restaurant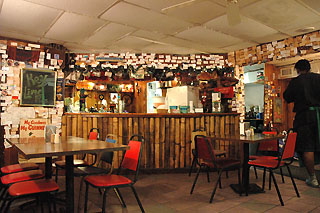 Inside the Crack'd Conch Seafood restaurant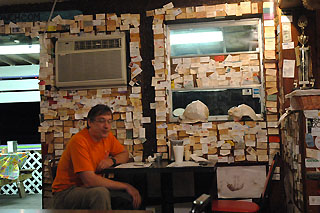 The missing 'e' is somewhere up there