Golden Gate Estates - Naples, FL
Eric: You interested in buying some original Florida swamp land? Well here it is. The land of the original real estate scam. This was the spot I was most interested in exploring when I got to Naples, because there must be cheap real estate someplace out there, right?

Here's how the original Florida swamp land scam worked: Back in the early 60's, Florida was growing like crazy and it was assumed that every single person of means would want to retire to Florida. Everyone. Someone figured out that if you dug just a few canals through the everglades, you could drain huge portions of it and sell it off to eager buyers pretty cheaply. Step two – bulldoze a grid of roads through miles of this stuff, don't bother to pave it. In fact, don't bother with electricity, sewage, water, schools, fire stations, stores or anything like that. Step three – start selling. Because you've drained a huge swamp with the minimal amount of canals, it gets a little moist during the rainy season. That's not your problem, keep selling.

Apparently people DID buy large chunks of this back in the 60's. The problem with Golden Gate Fla was you didn't want to live there. There were no necessities to support you. But you hoped that everyone else wouldn't notice that and THEY would move in first and get things rolling. Never happened. In fact, look at this link on Google maps. Why is there a grid of roads through the Picayune Strand State Forest? Because it all was all up for sale back in the 60's. The state figured out that this whole project below Route 75 was a dumb idea and is now attempting to revert it back to the wild.

It's amazing driving through there. Miles and miles of roads, straight as hell, each with their little street sign, going nowhere. We did pass some native Indians digging up palm trees and selling them back to rich people in Naples. To think THAT many people would descend on Florida in this one spot is amazing. The parts that are built up above Route 75 are OK I guess. At least you're not on top of someone else, but there's nothing to differentiate from one block to the next. I suppose if you want the best Florida weather for the cheapest price, this is the spot to go.

For more dirt, read this: Golden Gate Estates nefarious history

On The Road With The Dacrons - Golden Gate Estates @ :45
Velma: Naples Florida...you can't write about it without mentioning the Rosen brothers (Leonard and Julius, founders of Gulf American Land Corporation) and their infamous Golden Gate Estates. Covering 175 square miles, the area is divided into a huge grid through which canals run, draining water from the surrounding area to make way for the expected influx of residents.

The original plan was to divide up the area into small (around an acre) lots--the better to cram in as many people as possible. However, the appropriate infrastructure wasn't included the plans, and, in the 70s, the city officials woke up and realized "This ain't' gonna work!", so they increased the lot size to 2 acres.

As you enter from the western fringes, along Golden Gate Boulevard, you see the oldest homes, small and closely spaced. But, as you head east and south, these give way to larger parcels, some of which have been nicely landscaped, emerald lawns standing out against the surrounding scrub.

These large parcels become more and more spread out and the green lawns and nice houses give way to double-wides surrounded by chain-link fences. Eventually it all melts away into a ghostly no-man's land of unpaved roads stretching endlessly into the horizon in either direction--studded with realtor signs, stop signs tilted and pocked with bullet holes and faded placards advertising "chiki huts".
Lining Everglades Boulevard, that eventually take you south into Picayune Strand State Forest and Fakahatchee Strand, are rows of palm trees, many with blackened trunks. I believe the local Seminole/Miccosukee tribes area allowed to to pull them up, haul them away and do whatever they like with them. We passed two groups of guys finishing up their day's haul.

The area has a slash-and-burn agent-orange look to it that somehow feels wrong.
The lower end of Golden Gate is slowly being allowed to return to the wild, in hopes of restoring the ecosystem to a semblance of normality. Today, it's a graphic reminder of what's gone wrong with Florida.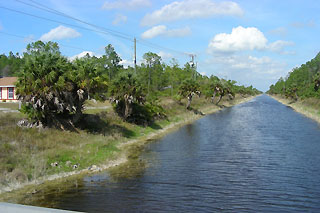 Golden Gate Estates canal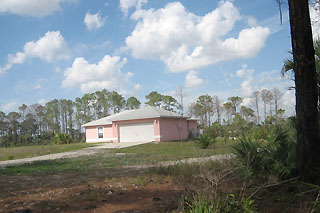 Typical house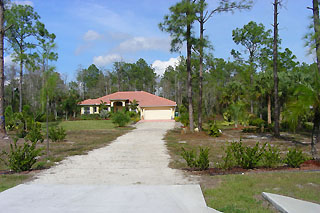 Golden Gate Estate house
More Golden Gate houses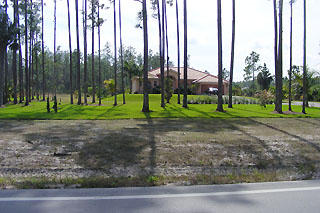 Nicer Golden Gate Esate house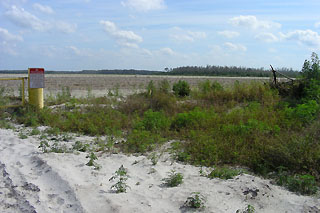 End of a street near the outter edges
A cool book on the Golden Gate Estates area: