Tropical Island Restaurant, Boynton Beach, FL
Eric: After two days, we were getting bored with Clewiston and Lake Okeechobee. We decided to drive out to the West Palm Beach area, just because everyone else seems to gush over the place. We get there and were decidedly underwhelmed. Yea it's "nice", I'm sure our mothers would love to retire there and look at the all the gaudy displays of wealth, but we were getting hungry. Now we're screwed, where are we going to get a meal that's not over priced in a town like this? We heard further south until we hit Boynton Beach and find this joint called the Tropical Island Restaurant.

We walk in and didn't realize it was a Haitian restaurant. At the exact same moment, the people inside this establishment didn't realize we weren't from the I.N.S. – a hush comes over everybody. Screw it, we wanted something different and so we sit down.

We didn't know what the hell the menu said. We just point to a few things and dive in. The food was spicy, delicious and interesting. None of these square Filet-O-Fish paddies you get at a Howard Johnsons. We get a whole, deep fried fish, still locked in place with a look of terror by the hot oil. I've never had real Haitian food. The meal was worth experiencing.

On The Road With The Dacrons - Restaurant @ 4:07
Velma: Yes, folks, the motto is: never be afraid to try something different! After the initial first stare, everyone went back to what they were doing and left us to our meal. The young waitress (from Haiti, as I established with my high school French) was very friendly and helped us navigate the menu. We couldn't believe the amount of delicious food we got for our dollar. Another place we'd definitely return to.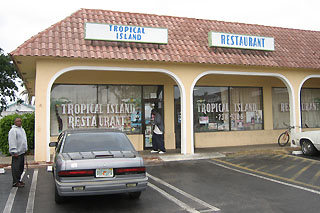 Tropical Isle Restaurant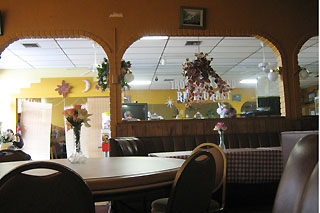 It's a joint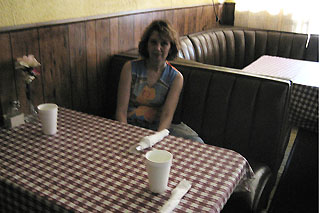 You wanted SERVICE?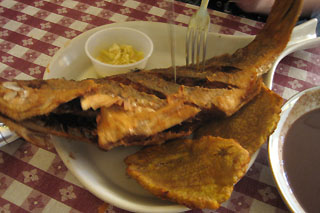 You wanted A FISH, right?
Address: 1600 N Federal Hwy, Boynton Beach, FL 33435
Phone: (561) 738-5306
GPS: N 26º 32.502' - W 80º 03.410'