Fort Summit KOA campground - Lake Buena Vista, FL
Eric: The Ft. Summit KOA campground has sort of become our default campground when traveling through the middle of Florida or doing the theme parks in this area. It's real easy to get to and it's just off the highway. Plenty of cheapy restaurants nearby and you can get to everything that Orlando will try to inflict on you. You're not on top of everyone else and you have enough room to walk your dog away from everybody.
We're all over this idea of the KOA brand. At first we were wary about any campgrounds that looks too structured with too many rules. Then we've ended up at too many campgrounds that were dumps. The worst is finding a freeby spot that's out of the way, and also being confronted with deaf, insomniatic drunken campers.

On The Road With The Dacrons - Orlando, Florida
Velma: As I've elsewhere, KOA is the place to go if you're looking for a dependable RV campground with all the amenities and plenty of Good Clean Fun. This one has the added benefit of being close to Disney World, et al. It also has lots of dog-walking room. In addition to the usual dog-walk, there's a big field between the camground and some orange groves, so you can get away from all those $400,000 Class A's. (We, in our 1999 fifth wheel, were the equivalent of a single-wide in an "estate" full of double-wides.) Lots of smoothly paved roads on which to bicycle, too.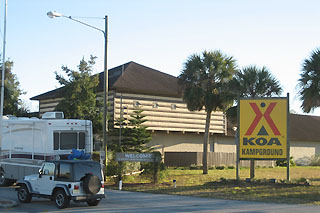 At least it's not an A frame office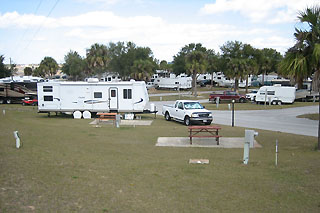 Ft Summit campground
more Ft. Summit Campground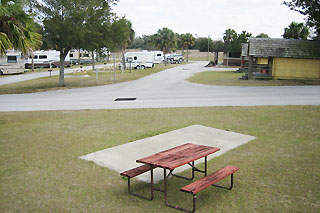 Typical KOA campground
Website: Fort Summit KOA
Address: I-4 at exit 55, Lake Buena Vista. Florida
Phone: (800) 424-1880
GPS: N 28º 13.746' - W 81º 39.138'
28.229106, -81.6523