Bay Harbor Lodge, Key Largo, FL
Eric: We had done a previous Key Largo vacation without our RV a few years ago and stayed at the Blue Harbor Lodge in Key Largo. As a keys resort, it was really nice to our tastes. Small, not over-run with people and tourists. For Key Largo lodging, I would suggest a place like this. It's pretty close to John Pennekamp is your into key diving.

You can sorta tell that this was someone waterfront Key Largo cottage way back when. The place expanded all around them and then it must've became too enticing to not turn it into a Key Largo resort. You can watch the sunset from their little dock. I was told you could spot a Manatee from time to time too.

Velma: Again, we say pooh! to hotels, motels, condos or resorts when it comes to taking a vacation in Florida--or anywhere, for that matter (as far as we're concerned). (Well, I suppose if it's in a city, it's unavoidable.) The only other option for lodging we'd go for would be a rental, but that usually only works if your vacation is for a month or longer.
Bay Harbor Lodge is colorful, has its own tiny beach, small boat rentals, a fishing dock that, at sunset, turns into a mini Mallory Square (see our Key West page), with vacationers watching the sunset, drinks in hands. (We didn't join in, however, preferring to sit by ourselves in the lounge chairs.) There's also a number of tame squirrels running about (someone there hands out peanuts) that Eric had great fun feeding.
A place like Bay Harbor Lodge is what comes to mind when you visualize visiting the Florida Keys of your dreams: palm trees, water, tropical sunsets, tiki huts and, of course, the beach. Ahhh...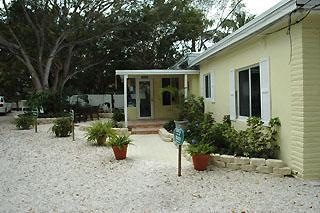 Bar Harbor Lodge Office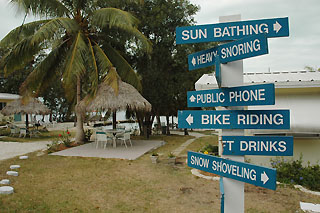 Which was to the bar...or harbor?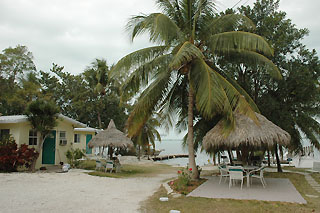 Is this resorty enough for ya?
Keep out of them damn trees!
Reverse angle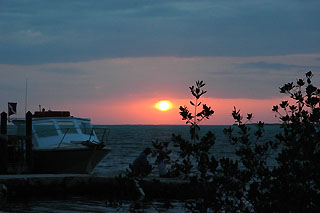 When does this ever get old?
Website
:
Bay Harbor Lodge
Address
: 97702 Overseas Highway, Key Largo, FL 33037
Phone
: 800-385-0986
GPS
: N 25º 04.605' - W 80º 27.655'