Suwannee River Wildlife Refuge
Eric: I couldn't get that stupid song out of my head while I was walking around the Suwannee River Wildlife Refuge. I truly was, at that very moment, "Way down upon the S(u)wannee River". How often does that get to happen? Anyway…

We got tired of exploring just Cedar Key, so we pulled out a map and went, "Hey, what's over THERE?" I had my trusty Garmin GPS device with me, so how lost could we get? There were all sorts of little cool spots to pull over and explore along the back roads which either lead away or to Cedar Key. Click here to see a Google map of the area.

There is a cool board walk which takes you to the Suwannee River from a little parking lot. Cool foliage and trees. If you see any banjo-wielding people playing that song, run away fast or you'll go mad.

On The Road With The Dacrons - Cedar Key, Florida
Velma: The whole area is gorgeous, from the Shell Mound (there are some of these in the Everglades, too, and are formed from discarded clam and oyster shells from early Native American meals) and Dennis Loop Trails to the Suwannee River itself. (BTW, the real lyrics of Stephen Foster's song are different from the version most people are familiar with).
It's a very peaceful, lovely place in which to wander--walking, canoeing or fishing.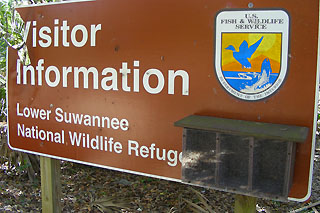 Damn, they're out of brochures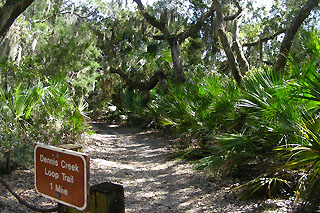 Can you spot the bigfoot?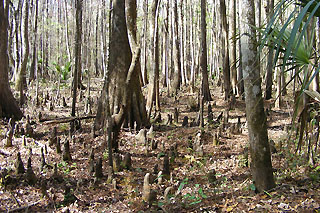 How do those spikes grow like that?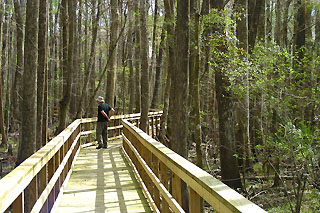 Let's not get close to that guy