Shark Valley Everglades National Park, FL
Eric: Unless you want to get your feet wet by yourself next to a road somewhere, where DO you go to get a sense of the Everglades? We think you should check out the Shark Valley State Park. It's off of Route 41 (aka Tamiami Trail) and not "Alligator Alley". If you're coming from Miami, you'll see all sorts of cheesy airboat tours along the way. Ignore them and keep going until you see the entrance to Shark Valley State Park. Apparently they're mostly the local Indians trying to make a buck off of the Miami tourists. If you've ever been in an airboat, they're loud as hell and anything with a pair of ears will be avoiding you bigtime.

There is this long, paved walkway which goes along a canal that is utterly filled with critters. The first time we went there, it was crazy to see how many living things could be so close together. The second time we went there it wasn't as crazy. The trick is to go during the dry season when everything is forced to stick together because the Everglades has shrunk for the lack of rain. You'll fill your camera's memory card with shots of birds, fish, alligators, turtles, deer and more birds in no time.

On The Road With The Dacrons - The Everglades
Velma: The first time we visited Shark Valley we took the guided tram tour where the guide pointed out many birds hidden in the marsh that we probably would have missed. Before that, however, we walked down the trail--where we had our first Alligator Encounter. Words cannot describe how I felt coming face to face with one of these beautiful powerful animals. I felt privileged--really!
I couldn't believe how indifferent they appeared to the humans strolling past, pausing to snap pictures. There are signs which tell you don't get closer than two feet to the gators, but if you ask me, even that's too close. These are wild animals and, despite their apparent lethargy, an alligator can strike
much quicker than you might suppose. They are not particularly aggressive towards humans, due to our relative size, but why take a chance. Respect the wild creatures--and plant life--of the Everglades. Don't be stupid.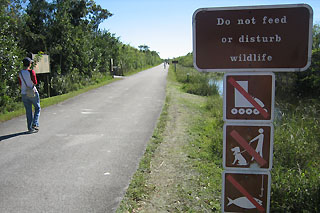 Shark Valley Everglades National Park paved walkway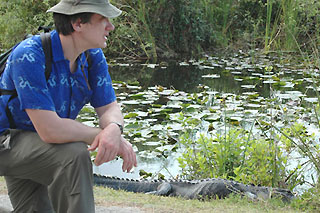 Don't trip over the alligators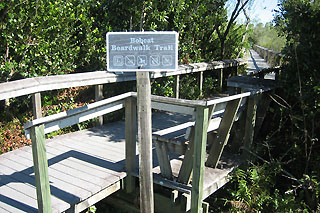 Shark Valley boardwalk trails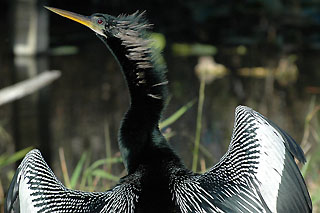 Anihinga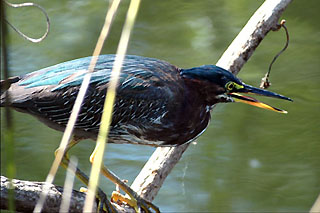 Green Heron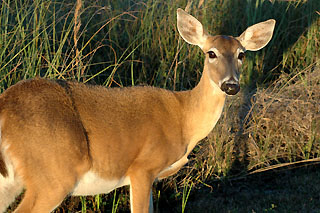 Bambi retires to Florida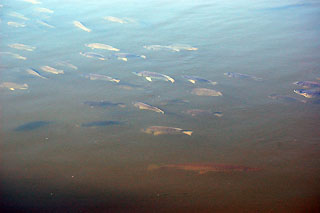 I guess these are the sharks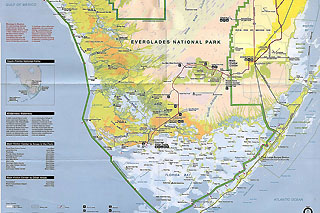 Large scale map
of the Everglades