Jimbo's Place on Virginia Key in Miami, FL
Eric: OK, Jimbo's on Virginia key was the highlight of Miami for me. I'm sure Velma will have something to say otherwise. It's these places where you drive way off the beaten path to find something different and unique that make travel the most fulfilling. Velma had found it in some travel guide and it wasn't clear on how to get there. Here's what you'll find: a waste recycling plant with a smell that forms a perimeter of at least a quarter of a mile. Funky, old, little buildings that appear to be ready to fall over at any moment. A small marina that Captain Quint from the film Jaws would feel right at home in. Cats. Plenty of not quite feral cats that define the word mangy. Inside you'll find beer, bait, tackle and chunks of fish for sale. What's not to like? This place screams of character. [Note: if you are utterly appalled at what I just described, then you've come to the wrong website. May I suggest you go here instead?]

I guess Jimbo's turns into an outdoor rock club with its little stage at night. We found it in the middle of the day when it's considered a marina. You can get a sense of what happens there at night on their webpage.

Velma: Ah, yes--Jimbo's. Colorful, as Eric said--like a movie set. Walls covered with all sorts of funky stuff and photos. Tree hung with bottles and other stuff. An old painted VW bug, lots of tumble-down outbuildings. Cats and a dog or two. And, oh yeah--cheap beer and chunks of smoked fish. I thought: hell, I'm gonna get into the spirit! So I had some cheap beer and smoked fish...As we drove away, my stomach started feeling queasy. A few minutes later, I told Eric "Pull over!" and barfed up the whole mess in some pretty flowers. I bought a tank top, too.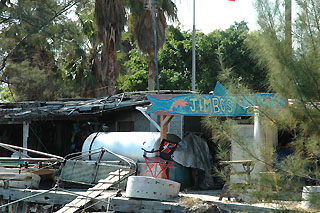 Jimbo's Virginia Key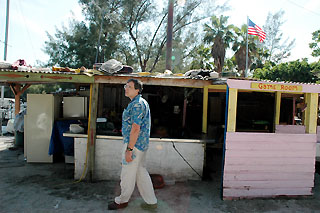 Jimbo's Virginia Key outside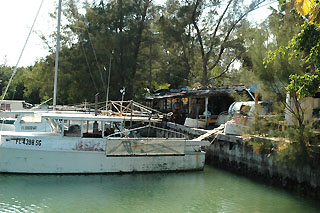 Jimbo's Virginia Key marina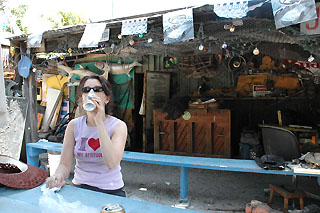 Jimbo's Virginia Key booze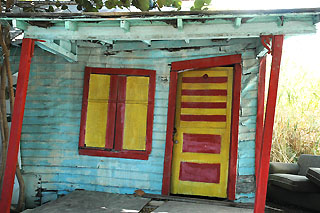 old house on Jimbo's Virginia Key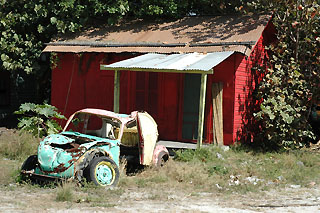 Jimbo's Virginia Key old vw bug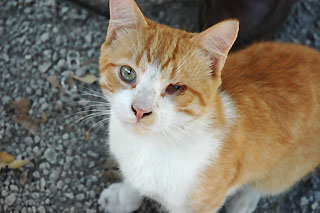 Ouch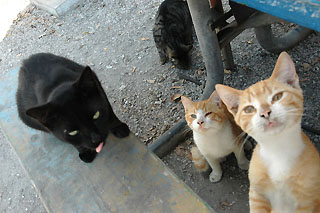 Hey, what's for dinner?
Website
:
Jimbo's Place
Address
: Duck Lake Road, Virginia Key, Florida
Phone
: 305-361-7026
GPS
: N 25º 44.840' - W 80º 08.780'