Key Largo, FL Travel
Eric: I was considering Key Largo as the possible perfect spot to move to. Since I'm not about to retire (I'm still in my 40's), I still need to find work. Key Largo is about an hours drive to Miami, I figured I could find work there and live here. I do more than an hours commute NOW, so having palm trees and a job with less driving sounds like a plan. At least that was the theory anyway.

I asked some kid who lived there what he thought of Key Largo. He was desperate to get off the island because he thought there was nothing to do. I suppose I have to agree with him on that one. There are no movie theatres, different ethnic restaurants, or culture of any kind. I'm not sure what kind of Internet connection you can get out there. As long as you are into fishing, drinking, key diving and boating, then this place is perfect. I don't have a boat and I guess I'm not into drinking and fishing that much. Maybe I can look forward to that later in life.

We stayed at a nice keys resort called the Bay Harbor Lodge on a previous keys vacation without the RV. That was a cool spot.

On The Road With The Dacrons - Key Largo
Velma: Bogie and Bacall, anyone? Not that the movie was my vision of Key Largo--after all, it takes place indoors, if I remember. I have to disagree with Eric, though--I don't think only people into diving, fishing, boating, etc., would be happy there. Of course, that's a big part of the attraction. But, how about people who just like hangin' back near the ocean and enjoying life? That sounds pretty good to me! (BTW--I go back and correct Eric's spelling & punctuation and remove the occasional redundant word (I was an English major, what can I say?) So I have to ask: what the hell is "key diving"--is that when you toss a shiny object into a pool and tell the kids to jump in after it?.
For the details on our experiences (negative and positive) with scuba diving, dolphin encounters and RV parks, check out each individual page. Oh yeah--the actual "African Queen" boat used in that Bogie movie can be found on Key Largo (not sure why--possibly to make up for the fact that the other Bogie movie ("Key Largo") was not filmed there.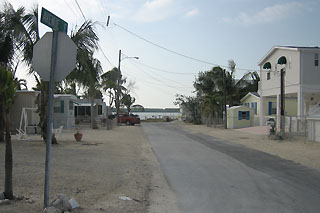 Typical Key Largo street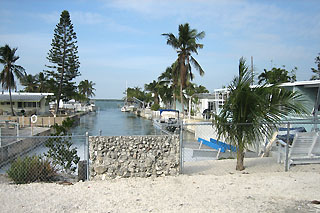 Key Largo canal front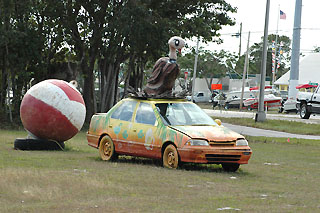 Funky car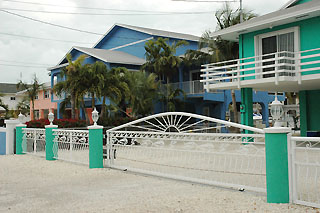 Typical Key Largo houses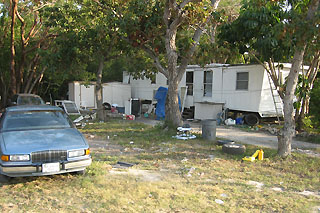 Key Largo dumpy trailer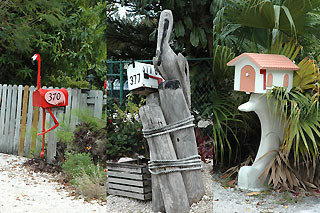 Key Largo mailboxes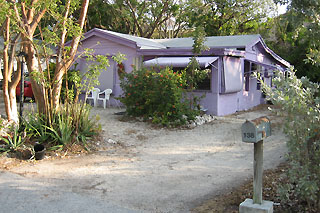 Key Largo purple house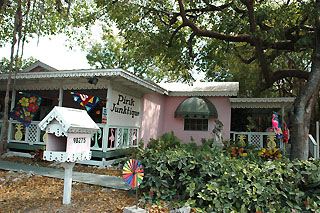 Pink Junktique
in Key Largo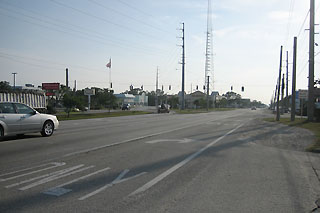 Route 1 in Key Largo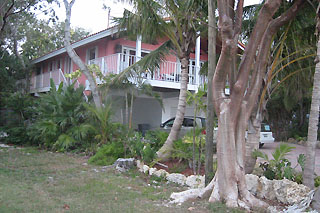 Another house in Key Largo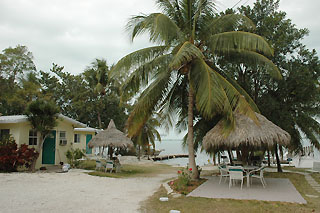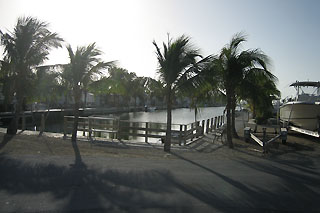 One of the remaininng spots on Key Largo you can take your RV.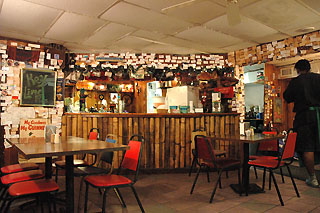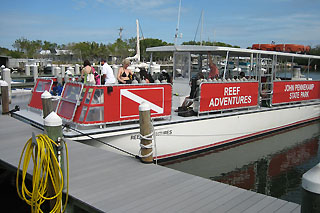 Diving, funky birds and camping. And more diving.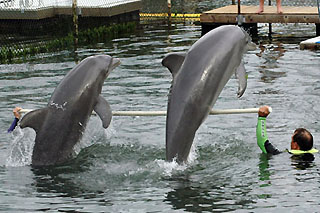 Grope a dolphin or pay to be avoided by them. Your choice!
Wikipedia
:
Key Largo
GPS
: N 25º 07.147 - W 80º 25.070