Lombardy Inn - Miami Beach, FL
Eric: Hey Velma! Look at what I found online - LOMBARDY INN. It's in Miami Beach and look how cheap the rates are! Why should we spend around $150 a night when we can stay at the Lombardy Inn? By the Google map it looks nice and close to everything. Think of how much money we'll be saving! How cares how many bad reviews it got on Travelocity.com. Think of the money we're saving! So what if the room looks like something Ratso Rizzo from the film 'Midnight Cowboy' would stay in. What? The mattress was EXTRA FIRM and a ball peen hammer wouldn't dent it? C'mon..it's only for a few nights, think of the beach across the street. So the toilet makes a trickling sound all night, it'll block out the traffic noise from the windows.

What? You want to switch to the Greenview hotel after staying only one night? And lose the deposit? Yes dear.

The Dacrons suffer through a night at The Lombardy Inn
Velma: After 5 minutes, I knew I didn't want to stay here--and it wasn't just the shady characters in the lobby or the lack of an elevator. The mattress felt like it was full of rocks, noise from the non-stop street traffic and dubious sounds from adjoining rooms penetrated the walls. And the bathroom was icky-dirty--I kept expecting to see cockroaches crawl out of the drains. As I frequently remind Eric: You get what you pay for!
We're getting the hell outta here! Not a propitious start to our Miami mini-vacation.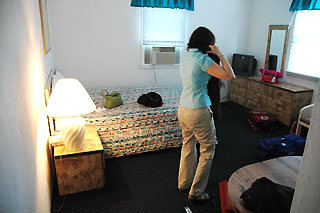 Greenview Hotel? HELLO? HELLO?!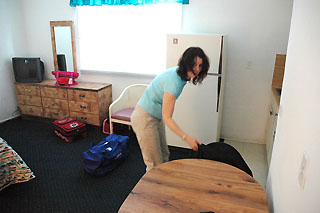 E: But think of the savings! V: &$#@!!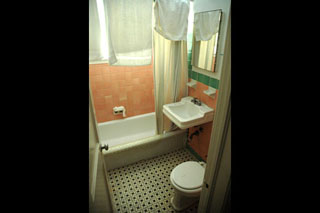 Drip drip drip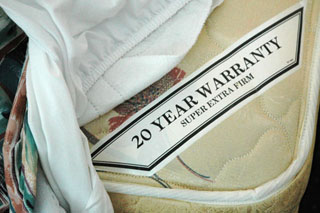 Super Extra Hard