Diving at Pennekamp State Park in Key Largo, FL
Eric: Velma is a terrible swimmer. We barely go a snorkel in her mouth when we went to Hawaii a few years back, and she practically sucked in most of the Pacific Ocean. Now she wanted to learn how to scuba dive. Since we were staying at the John Pennekamp State Park, a spot known for it's keys scuba diving, we had to go for it. They have all the diving equipment you would ever need and the necessary Padi scuba diving instruction to get you into the water and paddling around like nuts.

Take a look at the video for all the details. You'll see us with all the diving gear on and why Velma never got the final Padi certification. The first open water lesson had a little bit of wreck diving to boot. I had to do a second Key Largo dive and got Padi certified.

The park also has a campground where you can stick your RV and stay for a few days. Because it's a state park, it won't cost you an arm and a leg.

On The Road With The Dacrons - Key Largo
On The Road With The Dacrons - diving @ 3:34
Velma: Ooh--Mr. Smartypants got his PADI certification! So I'll never make a diver! My initial motivation was to do something I was afraid of, and I've always had a fear of deep (especially deep dark) water. I think it's character-building to conquer your fears. The other motivation was, like everyone else, I wanted to see pretty fishies and coral reefs. Alas, I never got to find Nemo.
Part of the problem with snorkling or diving, is that it's necessary to have your own gear if you want a good fit. And trust me, if you don't want to swallow or snort quarts of sea water, you'll need a good fit. After Hawaii, we invested in our own snorkels, masks and fins. The wet suit you can rent.
The issue at Pennekamp, for me, was two-fold: I missed the second day of pool instruction because my sinuses were clogged, and you don't don scuba gear and jump into the water if your breathing structures are in any way blocked. The second half of that was a buoyancy problem. I partly blame our instructor, who should have been experienced enough to add more weights to our belts for an ocean dive that he gave us for a swimming pool. I mean: HELLO? Salt water buoyancy? He ended up swimming back to the boat twice--once for each of us.
Also on the boat were people who were doing the "Day Resort Course", which is a minimal familiarization with the equipment before you get thrown into the ocean with an instructor. I was paired with a woman who was in that category and who starting hyperventilating when it came time to descend into the murky water (you hold onto a rope that goes all the way down--about 30 feet for a beginner dive). Not that I blamed her--I was pretty nervous myself. Part of the problem was the murky water, which--we were told--was from dirt and sand drifting downstream from the road construction project a few miles north of us. (They were widening Route 1.) Murky, cold, deep...need I say more?
Watch the video for the details. (And, yes, I really did shoot like a cork up to the surface, watching Eric recede rapidly into murkiness.)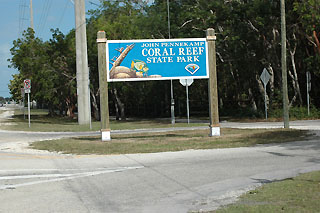 John Penekamp State Park entrance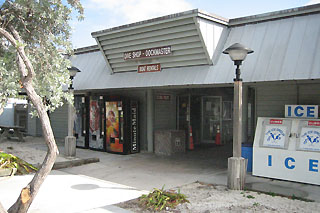 John Penekamp Dive shop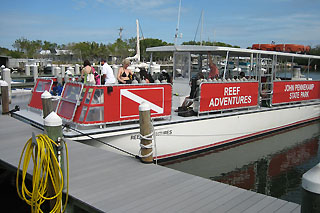 John Penekamp Dive boat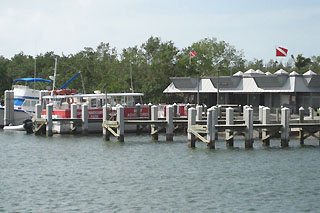 docks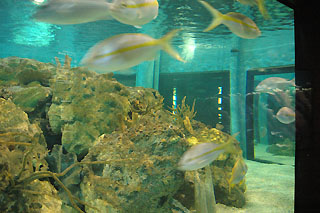 Aquarium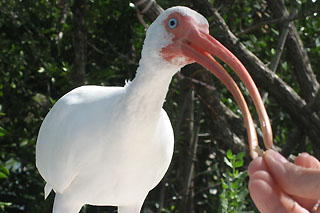 Ibis
The park also has a campground where you can stick your RV and stay for a few days. Because it's a state park, it won't cost you an arm and a leg.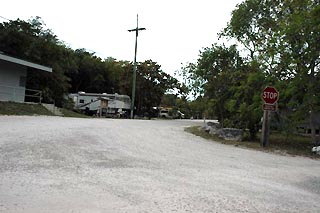 John Penekamp Campground entrance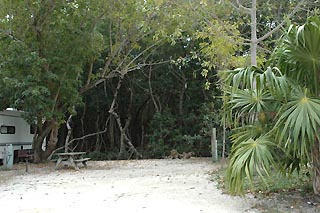 This camp site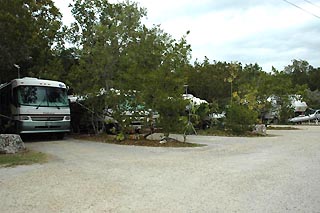 view of the John Penekamp Campground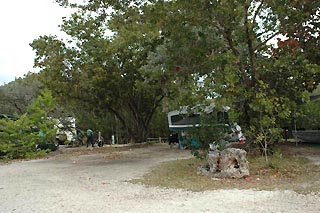 That camp site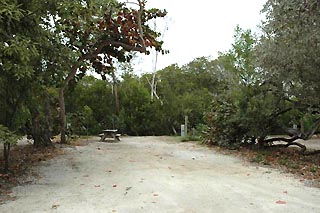 A camp site over there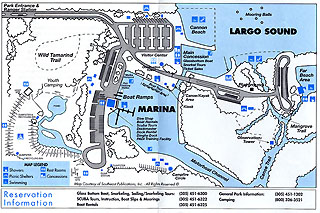 State Park Map
- Click for a larger image
Website: John Pennekamp State Park
Address: 102601 Overseas Hwy, Key Largo, FL
US 1 - Mile marker 102.5
Phone: (305) 451-1202 (Front Gate)
GPS: N 25º 07.566' - W 80º 24.705'