The Blue Parrot Inn - Key West, FL
Eric: We stayed at the Blue Parrot Inn during a previous Florida keys vacation. It's not really a Key West resort, but a bed and breakfast type place. As Key West lodging goes, it looks really nice. We especially like the view out our window at night, looking down at the landscaped courtyard and street. Why would you want to stay at a Key West hotel when you can have a nice place like this. (I forgot, some people insist on having others fawn on them while on a Key West vacation. If you're one of them, you come to the wrong website. May I suggest you go here. Knock yourself out.)

Velma: I really like the Blue Parrot, too. The location is great--within walking distance of Duval Street & Mallory Square, the Ernest Hemingway House and Jimmy Buffet's Margaritaville. (Which does make good margaritas, by the way.) Like Eric said, if you're going on a Key West vacation, why would you want to stay at some resort or hotel when there's reasonably priced funky inns and B&B's like this?
We stayed in room #5, the Palm Tree room, which has pine walls and ceilings (I seem to remember being told that the planks came from a ship, but I could be mistaken). There's a nice balcony on which you can sit and enjoy the balmy air and a semi-private bathroom a couple doors down. I thought this would bother me--not having our own bathroom--but the inn is intimate enough (and quiet) that it was not even an issue. I'd go back there again anytime!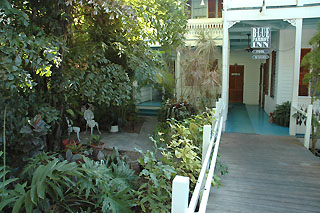 Blue Parrot Inn entrance, Key West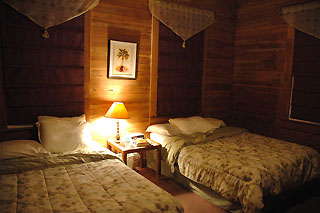 Blue Parrot Inn room, Key West
Website
:
Blue Parrot Inn
Address
: 916 Elizabeth Street, Key West, Florida 33040
Phone
: 1-800-231-BIRD
GPS
: N 24º 33.164' - W 81º 47.840'