Everglades City, Florida
Eric: Everglades City is the big brother of Chokoloskee Island. You have a little more room between everybody and there's certainly a sense of community going on down there. Good luck screwing your neighbor's wife and not having everyone else find out about it.

There's a big seafood food festival that happens every year at Everglades City. As you can see from the video, the south's version of a seafood festival is different from the northern kind. I suppose if I were an Everglades City resident, I would be wondering who came up with this festival idea. It didn't look like local fishermen were cooking up filets for anyone who wanted one. It looked like the typical traveling carnival types made up most of the vendors. I dunno. I sure hope there were some locals mixed in there in with yahoos.

On The Road With The Dacrons - Everglades City
On The Road With The Dacrons - Everglades City Seafood Festival
Velma: Besides checking out the Seafood Festival (it was very hot, very crowded, they were out of most seafood when we were there, but I did have some really yummy Indian fried bread and frozen lemonade), we took a boat tour of the Ten Thousand Islands that departed from the Everglades City Ranger Station (part of Everglades National Park). That's where we learned why the coastal waters in the area are brown: it's from the tannins in the decomposing leaves of the mangroves that make up much of the 10,000 islands.
The tours, while departing from the ranger station, are not run by the National Park Service, but by independent operators. We passed numerous cypress-covered islands, or mangals. We also passed a sandy spit of land covered with white storks and a few frolicking dolphins. No manatee, however--we were told they appear only around sunset and tend to avoid humans (not enough, unfortunately, as is known by their numerous encounters with boats). There are also various canoe and kayak eco-tours that you can take. (That's what I'd like to do when we go back.)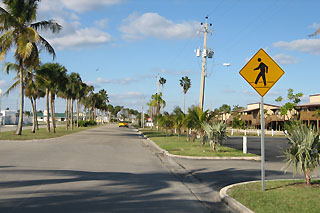 Everglades City street view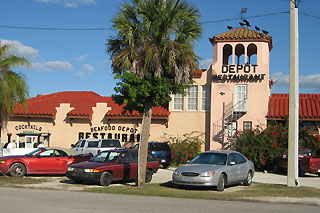 Depot at Everglades City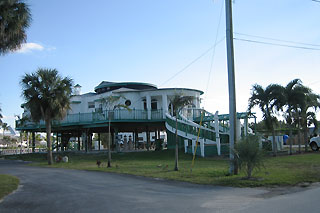 Funky house in Everglades City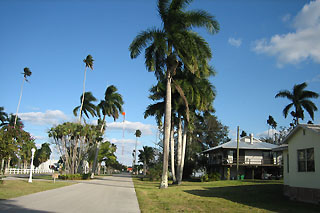 Another street in Everglades City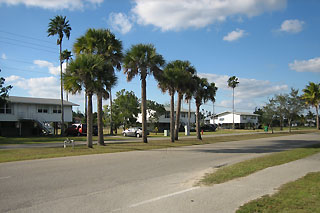 That's what it looks like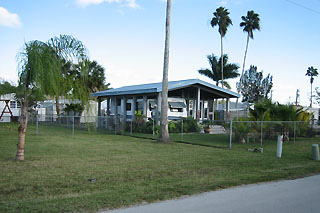 Everglades City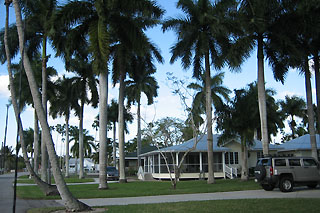 Near the water in Everglades City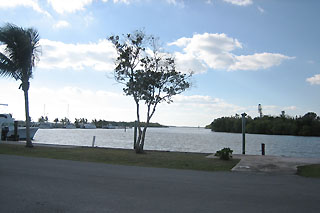 Everglades City waterview