The Middlesex News - Thursday, October 25, 1979
South strongman
Bikernieks: comin' on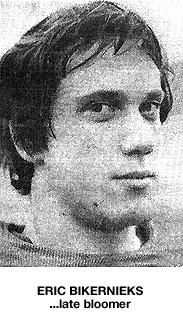 BY LENNY MEGLIOLA
News Sports Editor

FRAMINGHAM - The head coach simply calls him a "helluva tackle," while the line coach takes it even further. His summation: "Eric Bikernieks is the best interior lineman we've ever had here."

Could this be the same Eric Bikernieks who never touched a football as a kid, who never went out for a team until his sophomore year, and then was "just lucky to be on the kickoff teams?" The same Eric Bikernieks who, last year as a starter, got pushed around time and again? "He really got it taken to him quite a bit," says Framingham South line coach Jack Diatelevi. "But he stayed in there. Eric's the type of guy who works and works. He dedicates himself, heart and soul."

Eric Bikernieks never gave a rat's tail about football. It's true. No Pop Warner. No neighborhood stuff. No freshman ball. In fact, he played no sports. Then came his sophomore year and, he recalls, "I just wanted to play something." So he went out for the sophomore team, was put on the suicide squads and occasionally "ran in with a play." Hardly an auspicious beginning. No one fron Canton, Ohio, or even the Bay State league, took notes on Eric Bikernieks.

In his junior year, Bikernieks decided to try tight end. "But we were desperate for tackles," says Diatelevi So tackle it was, and on an 0-10 team, Bikernieks, according to Diatelevi, "took a ferocious beating." And forgot none of it.

He weighed about 180 pounds, and part of that was welts and bruises, so Diatelevi steered him to the weight room. From there, Bikernieks went to Pep's Gym two or three times a week during the summer. Suddenly, he was a 200-pounder, bent on revenge. "I just wanted to forget last year, start on the weights and get big so I could kill some of those guys this year," says Bikernieks. "I wanted to get even with a lot of tackles in the Bay State League."

It looked for a while like he'd never get the chance, for on the opening kickoff of the first game this season, at Milford, Bikernieks got his bell rung, and coach Bob Jachowicz didn't risk putting him back in. "I think I was knocked out," says Bikernieks. "All I can remember is walking the sidelines for about three periods wondering where I was."

In the next four games-against BSL rivals--Bikernieks showed what he could do. "His contact is really impressive, " marvels Diatelevi. "For the little space he has to get up momemtum, he's awesome at times. He really is." Ask the South coaches about the time Bikernieks literally lifted a lineman off the ground with a block. That segment of the film was played back several times. No one could believe it.

For Bikernieks' part, he doesn't quite fathom all the commotion. "I consider myself just an average football player doing my job," says Bikernieks, who should check around the league before making such outrageous statements. He probably thinks a Rolls Royce is just your basic, average car.

Unfortunately, just when Bikernieks was squaring things on a weekly basis for past sins committed against, he was felled by pneumonia last week. He missed the Framingham North game, and will be sidelined agairi Saturday for the Norwood game. He's lost most of the weight he's packed on by lifting.

He listened to the South-North game on radio and, with the ball on the two-yard line, heard the announcer say "This is where South could really use Bikernieks." Instead, the South tackle was home trying to cool a temperature of 104. It was a long afternoon for the Flyers, on the field and in the home. North won, 28-16.

"At the beginning of the year," says Bikernieks, "we were hopping, ready to play. Then we had that big win over Milford. Now, we're getting injuries, and it's going downhill (South is 2-4). I'm going to get back and see what I can do." There's no doubt Eric Bikernieks "can do."

He is not sure, however, what he'd like to do next year. He has shown abilty as a cartoonist and film maker. Diatelevi feels Bikernieks can play college ball, while Bikernieks is hoping he can get scholarship help. At any rate, he has left his mark, this late bloomer. "I even surprised myself," he finally admits after some prolonged scrutiny. "I felt if I played football I'd pay my dues to the school."

Perhaps only pneumonia could have stopped Eric Bikernieks this year. As Diatelevi says, "Since Eric put himself into gear, there's no stopping him."


---
[Eric's notes: "get big so I could kill some of those guys this year"?? Man, my testosterone levels musta been ragin' big time!

And this one: "I felt if I played football I'd pay my dues to the school." Jesus Christ, no wonder the government loves to draft 18 year olds, look at what you can drill into their heads!]